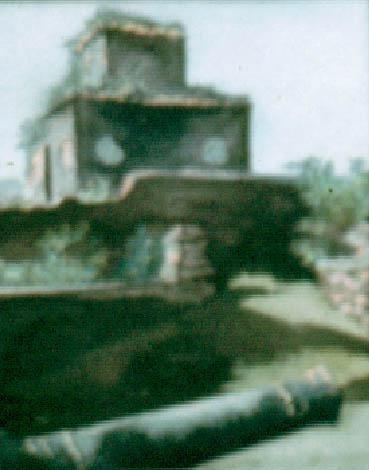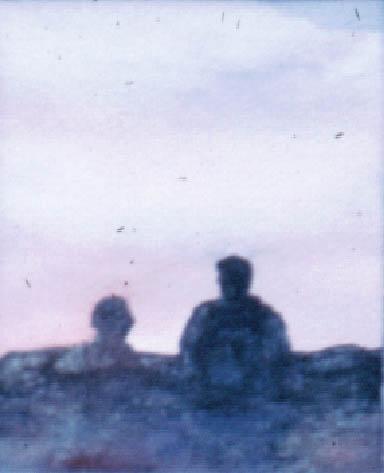 Author's Name: Daniel Woodward
Title: "Out From The Trees"
23 Poems by Daniel Woodward

The following poems were written as I experienced the events,
during my time as a soldier in the U.S. Army— from basic training at
Fort Ord, California through the thirteen months of active duty in
South Vietnam in the 101st Airborne Division, based at Camp Eagle
near the ancient city of Hue, not far south of the Demilitarized Zone,
in 1968 through December, 1969.


FORT ORD SUNSET

Sirens wail,
Bomb's squarely in our laps now —
Armageddon--unwilling
Out of the universities,
into a wild gray twilight —
beginning,
Somewhere refusing thoughts of killing,
but still
not knowing
what to know,
we go.


BASIC TRAINING
(RECPTION CENTER, 2ND DAY)

This is our madness,
This "all-fired country!"
This war.
They try to still us
Putting us to sleep
With an undercutting, "At-ease!"
The night-barracks world
Too large to fill—
Like fear. But we try, by
Turning-in on our separate cots.
Skinned heads, we,
And like victims of battle already
See eyes in dark places,
All the anxious inward eyes,
Watching, always, for some defeat, —
"Hung-up" on bad dreams —
Nothing before ever went so deep
As silence,
Resignation,
And the heart gone still inside.


NIGHT FIRE

Killers, sharpshooters —
We know who we are,
"Don't kid me."
"Get downrange! Police-up your targets!"
"Move out!"

Here's a place in the trees
Where stars fall through
Where an azimuth line
Runs silent through the years.

Where tracers buzz the sky
Red; to targets-men-recoil:
By the firing stump,
Near the foxhole,
In the prone supported,
"Cease fire!"

Tonight
I am a mystery with myself
No detection of fear,
I cannot figure
This new feeling; the creep
Of passion, my eyes suddenly in sync.

It's all reasoned in,
The feel of the well-oiled
Trigger mechanism, the solid stock.
No limit on sky tonight.
Disengage your mind,
Let the bolt slide forward,
Set the tiger loose,
"Watch your lane!"
Squeezing freedom again and again,
We fire.


TOWARD CAMP EAGLE

Acorns fall.
The sun drops once more down.
It's been a long time setting,
Leaving the placid land
Ships and
Jets in clouds,

To flags,
Flying and torn.
New foliage and ancient smokes;
Above falling things,
Broken mountains,
Splintered trees.
All things that make
No sound up here
In my pressured cabin,
Where half-imagined whispers strike the glass,


MY FRIENDS WHO PLAY HIGH

An orange sun drops down the delta
California style
Breaking, dividing into stars
Over Bien Hoa and Long Bien.
Barbed wire silhouettes
Hoop the horizon,
Keeping "unfriendlies" out,
But sounds of changing position—
low crawling, creep in.
"Quiet," I hear in the night, close-by,
My comrades whispering,
Half asleep
In Passionflower vines,
"Airborne!"
"Quiet!" I can't make out the joke.


DEFOLIATION

Something here,
hidden in mist,
among trees that have
no leaves
and flowers that wilt
to the bone,
excites the man
and frightens the soul.



CROSSING OVER
(LRP PRAYER)

"Quiet, no hint of life,
Oh heart within —
Show no sign of movement here —
Of my lone position
in this open space
... out from the trees."


BUNKER 17

We are the perimeter,
you and I,
stuck out here at sunset
to watch for snipers, sappers;
for incoming rounds.

All-time quiet lurks
— too late to pray now.
What but luck anyhow. Luck
the moon rises, and wind
stops.

Night comes on blindly.
We wait, listen,
a gamble—

down the line
a rattle of cans,
a cigarette glows—

"No moon tonight."
I tighten
and guard each swerving.


WIRE AROUND CAMP

Hard,
Tight,
A snap in barely audible dark,
— is all it takes
to get through —
Patience!

Slowly maneuver
Around beer cans
dangling —
Step gently over trip-flares —
Slip in as tenderly as night —
as effortlessly as sleep —
as a sharp knife.


SHADOWS
(THE SERGEANT'S "BOOM-BOOM" WARNING)

Don't go too far
don't go too far
Your head will fall off
your head will fall off
Keep it down
Keep it down
Keep it in
Keep it in
Or you'll lose it
Best
Don't begin
Best
Keep away
Keep clean away!


GUARD DUTY FRAGMENT

I learned the night
Nightly
Caught the touch of
Cold metal,
Blue mist of diesel fuel...
Real death,
Its cool likeness
Pictures no other.


ALONG ROUTE 547

Lines have no faces,
detached from the world
and women.
When visibility's good,
we count the inner days
with bits of broken glass
at the bottom
of footprints and tire tracks
in the velvet dust.


HOW THE RAIN COMES

In spirals; clouds covering
Mountains in three layers,
Till,
Stopping, regrouping,
Comes pressing
Downhill
Toward us
In waves
Over mortar fire.


MARS STATION

"I love you, over . . ."
Words elongate into
Wavy mirrors, sound like comedy
Over the precarious receiver.
Radio, our only link.
Hemispheres
All ears;
In this interlude with the world
Shortened
Bittersweetened
To 3 minutes,
"Over . . ."


WORDS ON WAR

It is SECRET
No words will out,
On Dong Ap Bia
(the great meat grinder)
Nothing known
But we know:
Each of us
In our own censored quiet.


STOPPING BY A PLASTIC BAG AT LZ SALLY

Whose face is this I think you know
His soul has left this valley though
His wife will not see us stopping here
To watch the flesh readied to go.

My sergeant orders through his beer
To stack the body in the rear
Between the ammo and the door
The darkest corner of our fear;

Then gives his cigar ash a flick
To show that he will not be sick
The only other sound's the whirr
Of rotor blades in their wide kick.

While earth below awaits our call
We dare not eye the other wall
Nor think about the anxious leap,
Nor think about the final sleep.


"EM PLOWED THE FIELDS OF A FARM WITH A TRACTOR"

In the overturned earth
Sparks fly from the plowshare bruising rocks.
The farmer in his black pajamas bends
Beside a dike,
Pushing down rice seedlings and mines
With a certain skill.

Rice, bamboo and the ground,
Night and day, are growing.
And you crawled into it,
Watching the screaming falcon sun
Crop out between your legs,
Thundering;

You who knew tractors and
Fertilizers and farming better
In Nash County, North Carolina,
Who never dreamed the smell
Of burning flesh;
You, Gerald E. Peters, Protestant, PFC,
Who have no legs.


OUT OF THE DMZ

Fire,
having fallen,
waits behind to go out now
to dim and burn
without me.
Westmoreland's "Big Picture"
turns off.

What a flaming time it was —
singeing layers from the heart.
Heart of green bark curling in campfires,
feeding on air currents and
inner parts.

What have I learned at
the Tiger's Breath...
"How does the war go, soldier?"
"It goes to hell!"
"Quiet, buddy," murmurs Nixon,
"Don't stir
The ashes."


AFTER ACTION

Everyone who has been there—.
You in your gut memory.
That jelly-like silence,
Quivering-bamboo silence,
Barbed-wire silhouette silence.

Nights aflame in
Scalding-kerosene brilliance,
Orange-flare-parachute brilliance,
Chopper-bubble-window brilliance,
What a first-class "turn-on!"

Out of gunpowder days
Flower-fed First Sergeants—
Officers bellowing, "Take that hill,"
Blasting from gunships
"Hell it was fun!" "Get that deer!"

A roller-coaster time! "Damn Right!"
Too many mountains, "Hell, we didn't stop!"
Too many muckrakers, "Damn folk singers!"
Too many accidents? "What the Hell!"
Too many mistakes? "Who said that?"


THE PERFORMANCE

"How was it?
—it was serious talk
in a blue field under moving stars —
It was like that, and
Unidentified rivers,
Ragged brown objects
fouled beyond recognition —
It was always like that;
ashes and mud,
You know how it was.
And pictures,
A million flashes tearing the black sky,
A million and one curtain calls to a
specter audience; right or wrong.
Audience?
Will you admit you were there?



1998
Looking Back in Memory

(3 poems by Daniel Woodward)


VETERANS' DAY

Heighten the ceremony, bring forth the dead,
but don't stand there whimpering
for the indivisible soul. Hasn't he had
Hell enough with that soul as it is?
How many times he's carried it out of a bar
broken and limp, turned and pitched it
to the devil in the wind.

Don't make him fight now.
We are what we've always been,
Retribution's up and gone.
— Let the casket
sink easily in—shovel it over,
Feeling sorry, fixing the end,
Only hinders his leave-taking.


HO WITH THE ANGELS

After the "War"
Was no easy peace,
No catharsis reached.
West still lay separate
From East.
Ho Chi Min, having told us so,
Must be happy though,
in his inscrutable,
communal heaven.



Old Vietnamese
fisherman - bronze


PERFUME RIVER

As if the wind were singing
To wet tropic skies,
Comes a sunrise
Streaking wax-leaf'd trees with red
Stirring sluggish buffalo
To turn their greasy heads.

Many years
I walk beside the delta,
In my clouded memory;
Lotus blossoms
Heady with dew.
And you, old stream,
Meandering like the Mekong,
Ever in my song...
Are somewhat calm,
At last,
Perhaps.

(That other Tet,
Long-ago gone,
Thirty years
and closure.).

But how
Is it now,
with you,
my friend--
Airborne soldier?
Did the fiery dreams
Finally end?
Shall we dare,
today,
Forgive the past,
and pledge to Hue
final disclosure?